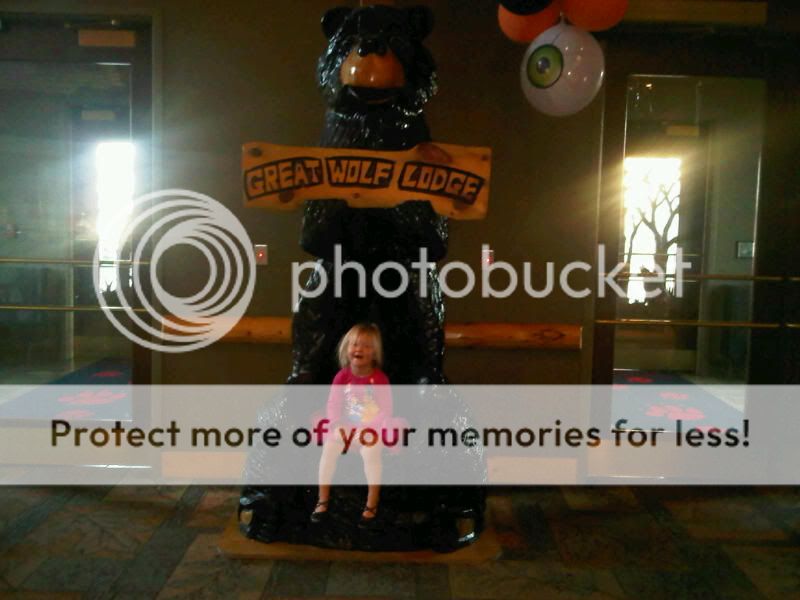 We spent the weekend at the Great Wolf Lodge in North Carolina. We arrived before check in on Saturday. You are allowed into the waterpark 3 hrs before check in so we took advantage of that. We ended up entering about 2 hours before check in. They had nice roomy changing rooms, showers, and bathrooms that also had benches (though i saw no actual changing tables in the dressing room, unless those were them, the bathroom did have them) which made it easy to get everyone ready. Saturday was busy but we still didn't have issues with long lines in the bathrooms or changing rooms. This is off season though, I would believe that to be an issue in season. Another issue I found was they only had 1 family bathroom/changing room/shower. This was very frequently full. The one time we were able to get into it, there was a pile of towels over 2' tall in the corner and, let's just say, the floor was "dirty". Whereas the main areas always looked clean, no towels laying around and I frequently saw staff go through, mopping up water, so there wasn't water everywhere.
The waterpark itself was fun. There was a little something to do for everyone. It took some getting used to. The other waterparks we are used to have a kiddie area that easily accommodates a small toddler (under 2) because that area does not get, but maybe, 1' deep. Great Wolf Lodge's kiddie area went up to 1'6". 1' is the perfect height for the new walkers, up to about 2. I say this because, it isn't too deep that they have trouble walking If they fall over they can catch themselves in 1' of water, in 1'6" they are floating by their life jacket (which my toddler hates) or under water. Since it is harder to walk in 1'6", these falls happen more frequently. Yes, it is zero entry but they see the toys deeper, and want to go up the steps, so head deeper. The other water parks we have been to are able to keep it shallower because they have a "toddler area" and either, a separate a "kiddie area" or they have "kiddie" things in the shallower end of a zero entry or wave pool. The only other area for the "kiddie area" at Great Wolf Lodge was sprinklers in no water (and also directly under the giant dumping bucket) and on the bigger kid climbing apparatus. There were also a couple water spouts and a rain umbrella in the shallow end of the wave pool. I had to hover over the baby, saving her, every time we went in there on Saturday. She didn't want to be carried but wanted to be in the deeper area with the toys and her sister. The 2nd day she decided to stay shallow. This meant she had only a couple spouts and a squirting flower to play with. There were jetskies in the mid range area but they were set up for a water fight. Getting on those meant that you were in squirting range of the other 3, inhabited by mostly bigger kids. The other option in that area was a teeter totter that scared her. The 2nd day she had a lot of fun with the spouts. Despite the lack of stuff for her to do, I can say she had a really good time the 2nd day.
For the older toddler and preschoolers the "kiddie area" had the things listed above. It also had a playground area that included a curved slide and a set of "racing" slides. There were some squirters as well. Then there were other random squirters, dumps, things to turn, etc. The 3, 4 and 6 year olds were able to enjoy themselves in there. Some got bored faster than others. The 3 year old did not meet the 42" minimum height for the bigger slides. She enjoyed the wave pool a lot (with her life jacket on). There was also a pool that was 3'-5' that had basketball hoops and floating creatures to climb on. She enjoyed just swimming around, chasing balls, in this. On the deeper end of this, there was a separate area with the (try to) walk across lily pads with the net to hold onto. Only my oldest children tried doing the lily pads. There was a bigger "kiddie area". This was geared more toward kids about 4-8 years old, adventurous 3 year olds, or very cautious older kids. It had lots of squirters and sprinklers, though they are positioned under the dumping bucket. In the climbing structure there were lots of squirters and dumpers to play with. At the top were 2 water slides that even my 3 year old was allowed to go on. You cannot ride any water slide with someone on your lap. Kids under 42" required supervision. These rules meant that both parents had to be present for A to ride the water slides, one parent at the top helping and supervising her, one parent at the bottom to help her and make sure she doesn't run off.
The wave pool had gentler waves sometimes and sometimes they were knock you on your bottom. I never could figure out how to tell ahead of time. The waves only lasted a couple minutes before a couple minutes off. There were 6, or so, intertubes available to use. Saturday it was hard to get an intertube. Sunday was much less crowded. Even A would hold on to the intertube (legs through) and ride the waves. J preferred to jump over the waves where he could steadily stand. S liked jumping in, under, swimming through and riding the waves. The bid kids liked going deep in the wave pool. A was the only one that really liked having an intertube. 4 small kids; 1 in a water sling, 1 in a life jacket, 1 not really able to swim yet, and 1 new swimmer, really keeps 2 parents very busy in the wave pool.
There were 6 bigger slides, as far as I can recall. I did NOT go on the "Tornado", my husband and older kids said it was GREAT. It was a 4 seater tube ride. The minimum height was 48" so S and J could not go. The Tornado and Alberta Falls required 48", the rest of the big slides allowed children 42"-48" to ride with an adult so S and J could ride those. I actually do not remember the names of all the slides, I went with color. There was a green slide that you ride, also in a big 4 seater tube. J rode this twice and said it was fun yet he looked terrified. I rode it once because I was terrified. The 2 smaller intertube slides were not nearly as bad. I did not ride Alberta Falls, it looked as bad as the green one. The racer slides were my favorite. You go down those on a mat, laying face first, racing 3 other people. The racers didn't give an old lady (like me) a heart attack. Saturday you could wait in line 30 minutes for 1 slide, again, this was off season. Sunday there were times that some slides had no lines.
They do provide different size life jackets, which are optional. They even had small heads up ones so we did not really need to bring ours. This is good to know because it was a pain to cart, even just the 2 we brought. They also provide towels, again good to know, since carting towels was a pain. Sunday I would have left our towels behind except that, when we were leaving Saturday, they were out of towels. I would have hated to be stuck without towels. I also want to point out, again, that this is off season. I was also a bit uncomfortable with the amount of lifeguards. However, they seemed to be on the job, we saw them rescue 1 person and rescue a dummy (they randomly test the guards to keep them on their toes). I am used to the YMCA waterpark that has a LOT of lifeguards at it. My biggest issue was I am a southerner, this is a water park, for the most part, in the south. Being indoors I expected it to be more climate controlled, but outside of the water I was cold. I also found most of the sprinklers to be chilly. I would go in the wave pool to warm up.
There were other things to do there as well. Magiquest was already a favorite of my kids from the one at Myrtle Beach. I was very leery of the Great Wolf Lodge Magiquest at first. The items you search for are down 4 different halls that have rooms on them. I thought this would be an issue because I'd be chasing kids everywhere and worried about disturbing guests. It turned out to be wonderful though. At Great Wolf Lodge you do not pay for a time period of play like at the other Magiquest. Your activation works for 4 days. The kids were able to play after dinner but before bed (until "hibernation time" at 11pm) on Saturday, a little Sunday morning, then a little more Sunday afternoon. The main areas were on the 3rd and 4th floor, with just a couple things on the 2nd floor. My older kids could go through all of it, without supervision. My middle 2 I could let do 1 floor without supervision but accompanied them to other floors. Since there are chairs near the elevator (which are also near main play areas) I could hang out waiting for them. My biggest issue was that there were centrally located stairs from the 1st to 2nd and 3rd floors but not to the 4th. Having to go back and forth between 3 and 4 a lot for Magiquest meant waiting for the slow elevators or going further down one of the halls to get to the exit stairs.
There was also a gift shop that sold hair tinsel, it was only $5 so not too badly priced. They did a stuff your own animal, those were $20, so again, not a bad price. They sold Crocs, at regular price, so not bad (but I find regular price for Crocs, to be outrageous anyway). This shop was tiny and had only 1 person working so there was a wait. The gift shop also was pretty reasonably priced, they were large and carried a big variety. The Cub Club was empty and was an area for kids to play, under parental supervision, for free. They did have crafts to do, at a cost, but they were reasonably priced, starting around $5. They also have supervised activities, some nights, for a fee, but we did not try those. We did not visit Gr8 Space (for teens, for a fee) because my teen was busy playing Magiquest. We did not visit the arcade, it was never busy and had lots of fun games, but they kids can play the arcade at home. With Magiquest there, they never even asked to go to the arcade. There is also Elements Spa for adults, which was running a $50 special while we were there, so not bad. For kids there was Scoops Spa, the price I saw for that was $60 for a mani/pedi for a kid, that to me is too pricey.
Food prices were not bad. A large 16" pizza was $11.99. We had the pizza and it wasn't bad. We did not try Dunkin Donuts, Sunday morning the line there was HUGE. We did not try the Bar and Grille either, I didn't see a kids menu for it so thought pizza would be better. We did eat both dinner and breakfast at the restaurant though. They have menu items. Or at breakfast and dinner they have a buffet available. Dinner was OK. Dinner was also no wait and the server was friendly, though maybe a bit slow considering they weren't packed. The kids loved that dinner came with wolf ears and dessert. They also loved that the tree we sat under had lights in it that their wands activated. Breakfast wasn't as good. The food for breakfast was better than the dinner. There was a 10 minute wait before they tried to seat us at a bar height table when they could see we needed a high chair. Once we declined that, we had to wait another 5 minutes. Once seated, service was very slow, we were halfway done eating before we got our drinks. Then the kids got really excited because the table next to us were given wolf tails. However, when we asked our waitress she said that was only for lunch and dinner. When we requested a lunch menu later, we were handed the one for the bar and grille that didn't have a kids menu. We were gone before dinner so the kids didn't get tails. Prices there were not unreasonable. $20 for the buffet for dinner. This is not bad considering other tourist attractions. If you also take into account that there is a special going on that kids under 10 eat free, I think the food was quite good for what you pay. However, there is no excuse for bad service. The last eatery was the sweets shop. Prices were about average for fudge, candies, caramel apples, etc. There was a good variety and the sweets weren't bad. We had a caramel apple, chocolate covered marshmallows, and 2 different flavors of fudge.
For the most part, all of the staff during our stay was friendly and helpful. We went down for the clock tower show but it was so busy that we really couldn't hear well enough to figure out what they were singing about. The story afterwards wasn't any better. The storyteller had a mic so we could hear it but, though a friendly girl, she didn't really have any experience or training in reading stories to kids. My teenager does a better job, I do a better job, the librarians at the library storytime can all hold the kids interest. This story didn't hold the kids interest at all. It was a book being read so the story wasn't the issue, it was the lack of inflection and emotion from the storyteller. We waited around because the costume parade was going to start after that but instead Wiley the Wolf came out and there was a huge line to get pictures with him so we went back to our room. Only after that did they finally do the costume parade but we had already changed. Later they also did a dance party, which sounded and looked really fun, but was way too loud for my kids. We did do the trick or treat trail. There were only 5 stops. When I first saw there were only 5 stops I thought that would be way too short. It ended up being perfect, enough to get the kids some treats but it only took 30 minutes. Since the trail went from 6-8pm but could be done in 30 minutes that meant no long lines at the trick or treat stations and enough time to go to the shop and stuff a wolf afterwards, before doing the storytime. However, the kids (and my kids are rarely critical) actually said they had the worst candy ever. They also had a hayride to the pumpkin patch running from 12-6pm every day. This was by registering only so you didn't have to worry about long lines. The kids got to ride the hay ride for free, pick out a small pumpkin, and then were able to decorate it with stickers or paint it at the Cub Club for free. They really enjoyed this. On the hay ride they told a happy "ghost story" but it was the same storyteller so they kids didn't pay much attention. We did learn the person was new, so maybe as she gets more used to storytelling she will do better. I just think if you are going to offer something for the kids they should train their staff so it actually is worth offering because, as it stands now, the kids probably don't even remember either happened. When we went to the Cub Club to decorate our pumpkins we opted for stickers, not paint, since we were driving home that day. They offered the kids to chose which sticker pack to use. After deliberation to chose though, it turned out they were out of most of the sticker packs so really didn't have much choice. The kids had fun, none the less.
I cannot comment on all the rooms, we had a large suite because there are 8 of us. The room was clean, well maintained, nicely decorated and the layout was great. I loved having 2 bathrooms. The master was the only one with a tub though. It was a huge deep tub which was really nice for me. Even with only a small amount of water though, the baby slide around in the tub.
My recommendation would be to arrive on a Sunday. They are still doing all the special activities on a Sunday but many people are leaving after a Fri/Sat stayover. Arrive near 1pm, get your wands for magiquest, do some magiquest, ride the hayride, check in at 4pm, get some dinner, then do the special weekend activities like the storytime (if you even bother), etc. Squeeze in a couple hours of the waterpark if you are only staying 2 days. Then the next day do the Magiquest, breakfast, etc and then do the waterpark a little later as people are checking out but the next day hasn't arrived yet. I would say, unless doing nearby attractions, or planning to do Scoops, Gr8 Space, the arcade, minigolf (not mentioned above because we didn't do it, but it looked OK), etc you could get away with just a 2 or 3 night stay (or a very busy 1 night stay). If you plan to do a lot, you could get a Paw Pass which includes the wand, Magiquest, stuffed animal, Gr8 Space admission, etc. Do not plan like you can just run back to your room or car as needed though. The way the hotel is laid out it is long. Sure, it makes it look expansive but it is a pain for half the guests. It is a long way to many of the hotel rooms, down long halls. The parking lot is also a central lot, all at the front, like the mall or such, so it can be quite a long walk to your car as well. After walking up stairs all day to get to the waterslides, neither is on my list of things I want to do. I might go back during off season but no way would I pay the higher price for even bigger crowds.